According to some sources, the United States Securities and Exchange Commission (SEC) may approve the first exchange-traded fund for Bitcoin futures in the United States (ETF).
This was one of the more bullish predictions by the Bitcoin analysts, as it might allow a broader range of investors to bring attention to Bitcoin and the broader cryptocurrency industry.
As a result, Bitcoin reached $60,000, its highest level since April of this year.
? The SEC Could Approve a Bitcoin ETF in the United States
The US Securities and Exchange Commission may soon approve the country's first Bitcoin ETF.
According to people familiar with the matter, regulators are not likely to prevent the ETF from trading next week.
According to reports, one of the primary reasons for the potential approval of a Bitcoin ETF is that the project by ProShares and Invesco Ltd. provides "substantial investor safeguards."
The possibility of the very first Bitcoin ETF to gain approval in the United States grew after eight years of several proposals to extend the bitcoin ecosystem.
Bitcoin ETFs have consistently been experiencing rejection in recent years owing to a lack of "investor protections."
However, with increased liquidity and trading volumes, the Bitcoin sector has grown to be an even bigger market for stockholders.
If authorized, the Bitcoin ETF might begin trading this month.
Additionally, Bitcoin ETFs are legal in a number of other jurisdictions, including Canada, the European Union, and others.
This demonstrates that there is significant interest in Bitcoin ETFs not just in the United States, but also among investors globally.
After several months of consolidation, Bitcoin reached $60,000 for the very first time after April 2021.
This price gain has a high correlation with the chance of Bitcoin ETF's approval in the days ahead. If that occurs, the virtual currency may continue to rise and maybe test its all-time high of $64,750.
However, the ETF could potentially be denied.
If that occurs, the bitcoin market may potentially experience a correction.
Other fund managers, including ProShares, VanEck Bitcoin Trust, Valkyrie, Ivesco, and Galaxy Digital, have also submitted applications to launch other Bitcoin ETFs inside the United States, but no decision has been made yet.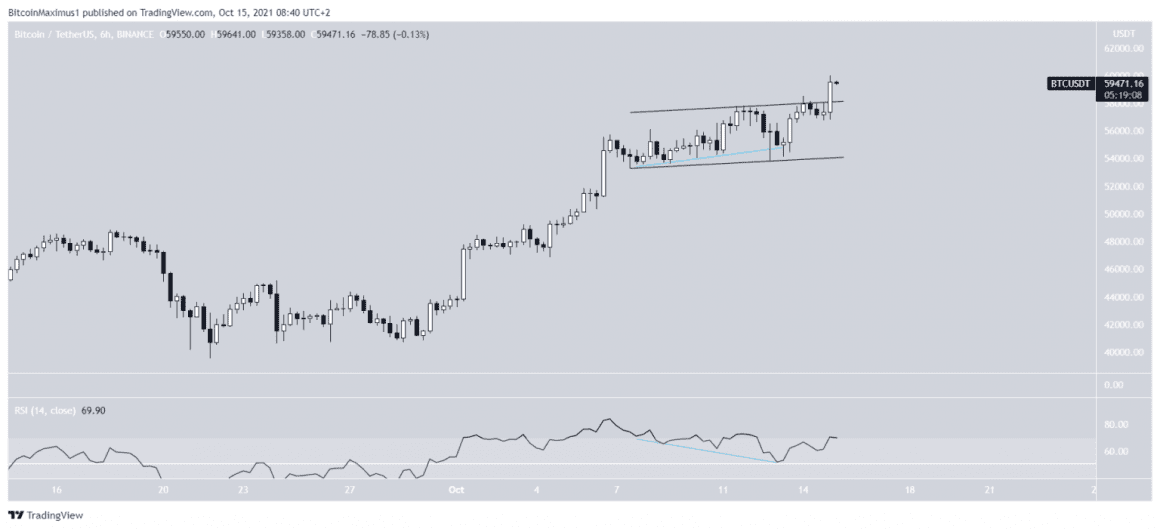 ? Bitcoin's Wave Count
BTC is currently on the 5th wave of its bullish momentum, which began on September 21. As a result, a pullback would be expected after the present move is complete.
BTC has already surpassed the initial target for the upward impulse's apex. Between $59,700 and $60,000 is the value of the region, which is determined by the length of waves one (white) and waves 1-3. (orange).
If it continues, it is projected to reach the next resistance confluence between $63,250 and $63,850.
In any event, it appears as though BTC is nearing a top.