Bitcoin's realized market capitalization has achieved another all-time high, surpassing $400 billion.
In our team, the realized price and the market capitalization are the two trends that we are constantly monitoring. This is because these key indicators essentially show the coin's average cost.
With a realized market value of almost $400 billion, the realized price of bitcoin is currently $21,250.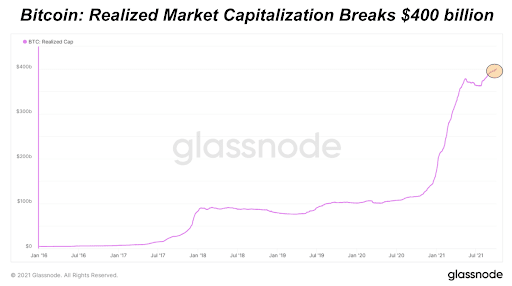 When we examine the history of the bitcoin realized price, we are able to predict the coin's underlying market movements.
The realized price provides a very clear indication of the state of the bitcoin market cycle. When the realized price is fast increasing, this indicates that bitcoin is currently in a bull market.
This happens whenever there is a new wave of traders that enters the market. This creates a huge market bid.
Because of this, as the prices skyrocket as a result of the underlying supply/demand imbalance, the existing holders may choose to sell some of their coins. This dynamic of coin exchange results in a quick appreciation of realized price/cap.
During market corrections, there is a decline of realized price as coins are sold at a loss.
An important note is that the realized price decreases far less proportionately than the market price/market capitalization during the bull market's reactionary phase.
When the accumulation phase of the market cycle happens, the realized prices will remain stable or slightly increase. Coins are then shifting from weak to strong hands, from gamblers to convicted HODLers.
While some may argue that we have been in a continuous bull market since May 2020's halving, when we look at realized price movements, we see a bull market from October 2020 to May 2021.
This is a short two-month negative market, and now a reaccumulation period before the next parabolic bull trend.
? Long term horizons with big goals $320,000 or more | Bitcoin's Market Capitalization
A longer-term, macro perspective was offered by crypto trader Twitter user 'Pentoshi,' who shared the following chart demonstrating BTC's multi-year trading range.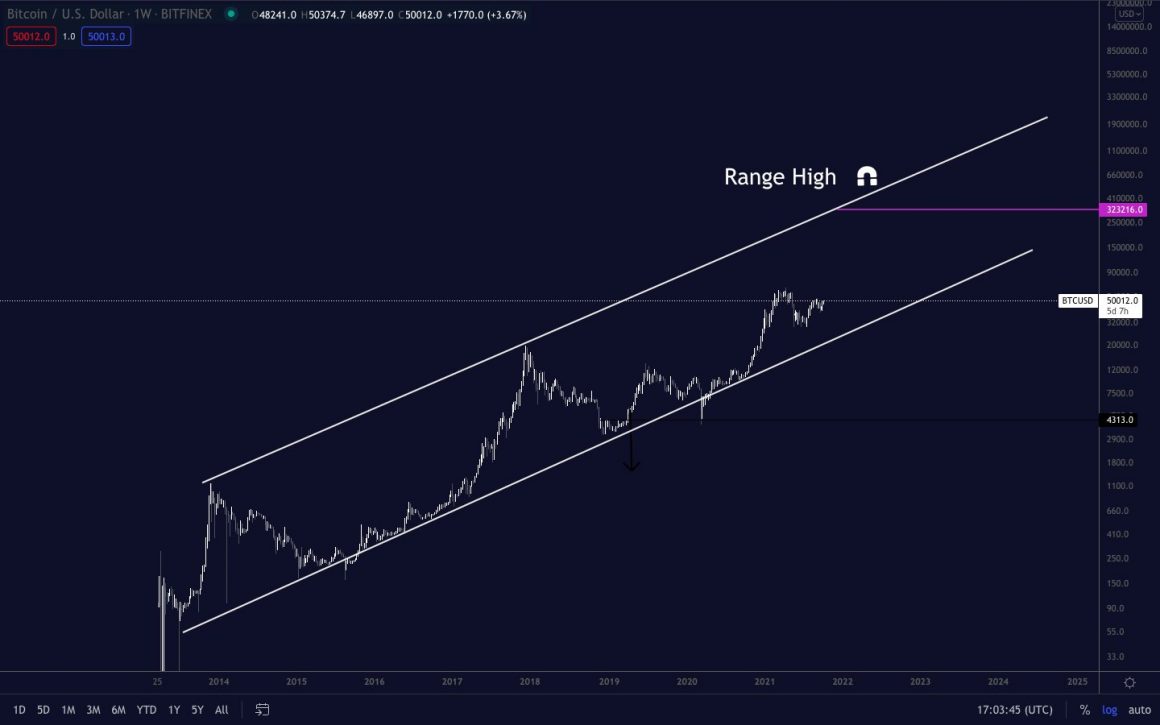 "Range trading is a clear strategy, but when BTC trends, it trends hard. These are my macro ranges. Pentoshi stated, "I'm looking to take the range highs."
According to the presented chart, Bitcoin's price might hit a range high of $323,216 in 2022.
The total market capitalization of cryptocurrencies is now $2.229 trillion, with Bitcoin dominating at 43.5 percent.