Any time prices rise steadily for several months or even years, this is known as a bull market. The stock market is the most common setting for the term, but bull markets can also occur in other asset classes like real estate, commodities, or foreign currencies.
? What Is a Bull Market?
During a bull market, stock or exchange market prices rise significantly over time.
Investors and buyers can be encouraged to buy more stock. This period is temporary, but it could last months or years.
It also refers to a state of the financial market in which the price of a group of securities is expected to rise.
It is characterized by rising stock market prices for an extended period of time.
? How Does a Bull Market Work?
Bull markets cannot be identified using any specific benchmark or standard.
The most critical market factor is an extended period of rising stock market prices.
They are characterized by an increase in investors, a cheerful market, optimism, investors ' confidence, market buoyancy, and other positive characteristics.
Large-cap security prices are expected to rise for an extended period during this time period.
They are hard to predict, but a 20% increase in the price of securities makes them easy to identify.
There was a bull market in the years 2003-2007, but the financial crisis of 2008 brought about yet another significant decline.
? Bull Market Characteristics
They have the following characteristics or attributes:
An increase in the economy's growth rate.
Confidence among investors and a desire to purchase are both present.
Optimism.
Lower unemployment and higher profits for businesses.
Positive stock market demand and an increase in initial public offerings (IPOs) activities.
Investor zeal to provide or purchase securities.
Profitability improvement.
? How to Invest in a Bull Market
No matter what happens in the market, you should keep an eye on the long term in order to build long-term wealth.
Investing when stocks are relatively inexpensive is a good idea, but trying to time the market is a bad idea.
Even in the most competitive markets, great long-term ventures can be found.
Learning the concept of dollar-cost averaging is a wise move.
An equal-dollar-amount investment strategy allows you to participate in this type of market while also protecting your portfolio from corrections and crashes.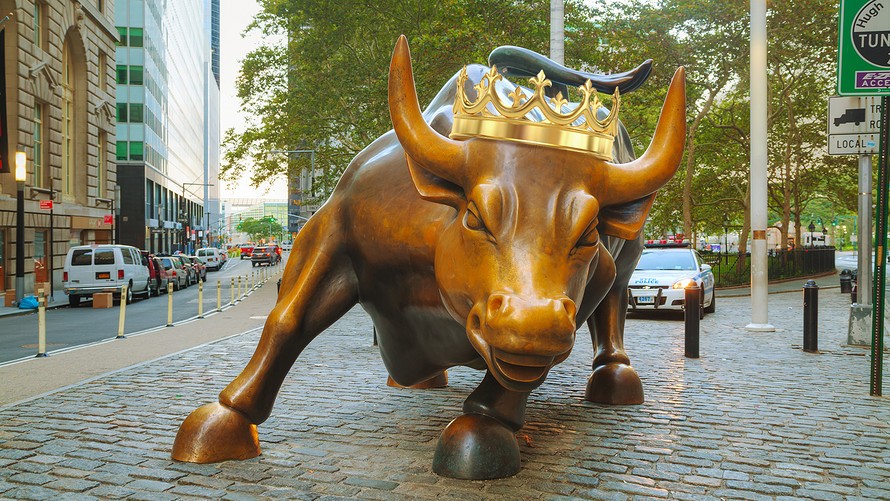 ? How to Take Advantage of a Bull Market
While a bull market can be profitable for investors, it's best to buy early and sell when prices have reached their peak.
The bottom and peak of the market are difficult to predict, but the majority of the losses will be minor and only last a short time.
We'll look at a few popular strategies investors employ during bull market times down below.
However, because the current state of the market makes it difficult to assess these strategies, they also carry some risk.
1. Buy and Hold
Buying a security and holding onto it with the intention of selling it at a later time is a fundamental investing strategy.
In order for this strategy to work, the investor must have faith in the stock's future price growth.
As a result, the optimism contributes to the buy and hold strategy's success.
2. Increased Buy and Hold
To put it another way, increased buy and hold is a riskier variation on the classic buy and hold strategy.
As long as the price of a security rises, the increased buy-and-hold strategy assumes that investors will keep adding to their holdings of that security.
One common way to increase holdings is for an investor to buy a predetermined number of additional shares for every predetermined increase in the stock price.
3. Retracement Additions
Short-term changes in the price of a security cause a retracement.
Even in a bull market, stock prices may not continue to rise indefinitely.
Instead, it's more likely that the overall trend will continue to rise for shorter periods of time while experiencing brief dips.
Some investors keep an eye out for market retracements and buy at these points.
In the event it persists, this strategy assumes the price of the stock in question will quickly rise again, offering the investor with a reduced purchase price retroactively.
4. Full Swing Trading
Full swing trading is one of the most aggressive methods of trying to profit from this type of market.
Short-selling and other techniques will be used by investors who use this strategy to try to squeeze as much profit as possible from market shifts that take place within the context of a broader bull market.
✨ Bull Market Example
A country's economy experiences bull markets at different points in time.
After the stagflationary period ended in 1982, the US stock market experienced its most significant bull run.
This 18-year bull market, which began in 1982 and ended in 2000, had a significant impact on many industries.
Quite a few investors and businesses reaped the benefits of the prolonged increase in the value of securities.
The Dow Jones Industrial Average (DJIA) had an average annual return of 16.8 percent during this bull market period, as an example of this.
After five years of trading, the value of NASDAQ's stock rises from $ 1,000 to over $ 5,000 per share.
? Bottom Line
An investor's best course of action in a bull market is to buy stocks early in the trend and then sell them when the price has reached its peak.
It's a good idea to consider the market's current state when making an investment decision if the market is experiencing a bull run.
It's important to keep in mind that the stock market has historically provided positive returns when looking at the big picture.
❓ You Might Ask
1. Is bull market good or bad?
Bull market is a good sign. When prices rise by at least 20%, it is said to be a bull market. They fuel an upward spiral because investors are overconfident, and higher stock prices even with modestly good news.
2. Why is it called a bull market?
The term bull originally referred to someone who made a speculative stock purchase in the hopes that stock prices would rise. The use of animals in art from the eighteenth century was popular. Since then, the stock market has had both bears and bulls.
3. Should I buy in a bull market?
In a bull market, the best plan for an investor is to buy stocks early in the trend and then sell them when the price reaches its peak near the end of the trend.