Upwork and Fiverr are two of the most popular websites for finding freelance work. When it comes to freelance work, both are popular, but between Upwork vs. Fiverr, which is better for freelancers?
A growing number of people are choosing to work from home as technological advancements alter both our daily lives and our financial situation. Old and new professionals alike who want a fresh start, a new client, or just a change of pace can now turn to freelance job sites for assistance.
This article compares and contrasts the advantages and disadvantages of both Upwork and Fiverr.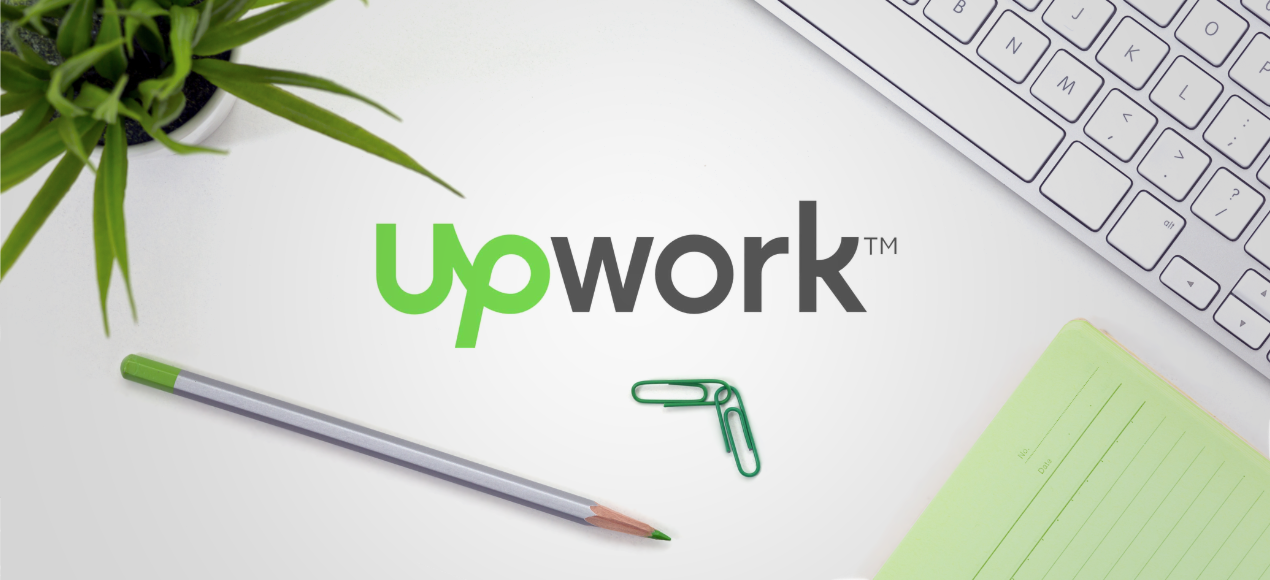 ? What is Upwork?
Many well-known companies have used Upwork's services in the past, such as Microsoft and Airbnb.
On the platform, there are three ways to find work: the Talent Marketplace, in which you can post job positions and get hired, the Project Catalog, where you can post and sell projects, and the Talent Scout, where recruiter services match up talent with employers.
There are a wide range of career options, including development and IT, design and creative, sales and marketing, writing and translation, administrative support and customer service, and finance and accounting, among others.
? Upwork Connects & Finding Jobs
Create a free account to get started, then choose between local jobs and jobs abroad. Connects, Upwork's virtual currency, allows you to apply for jobs on the platform.
With the free basic plan, you get ten Connects per month; however, if you upgrade your policy, you get 80 Connects per month.
You can use Connects to apply for jobs directly, or you can post projects that you are available to hire and wait for hiring managers to come to you using the Connects application method.
Instead of doing the legwork yourself, if you need help finding work, recruiters can take care of it for you by using a skills-based approach.
To show employers your qualifications quickly and easily, you also can add Badges.
? Upwork Payment Methods
There are several methods of payment, including traditional hourly pay or fixed-price protection that releases payments in full or over time based on project milestones.
Direct deposit and wire transfer are two traditional payment methods, but you also have the option of receiving your money via PayPal or Payoneer.
To make things easier, you can use the invoicing feature to keep all of your records in one place.
? What is Fiverr?
Fiverr promises on its website that a gig is booked every four seconds. That's a bold claim.
There are almost 50 million transactions completed by this firm, which is well known for its logo design.
The company's brand is well-known among clients including Facebook, Google, Netflix, and PayPal.
? Fiverr Freelance Opportunities
Freelancers can find work in a variety of fields, including graphic design, digital marketing, writing and translation, music and audio, programming and technology, as well as lifestyle and data.
You'll see popular services like web design, copywriting, SEO, and illustration advertised on the platform as well. There are, however, numerous subcategories to pick from.
Either you be proactive and simply offer your own items or services for sale, or clients can utilize a thorough search function to discover the perfect freelancer.
Generating a seller profile is completely free, and then you can start creating gigs and packages that highlight your abilities while also attracting potential employers' attention.
You're all set to go once your profile and any jobs or services you offer are published. When a customer orders a project, you'll receive a message telling you when to get started.
With the launch of Fiverr business, organizations can now engage with experienced freelancers on projects that require teams of people.
? Fiverr Charging Methods
Fiverr's on-demand courses, such as Learn from Fiverr, are among the site's numerous useful features.
It connects with the AND CO app to streamline bookkeeping processes such as proposal creation, task management, and invoicing.
Fiverr charges fixed payments for gigs and projects rather than hourly rates.
The platform is capable of handling projects ranging in price from $5 to $10,000.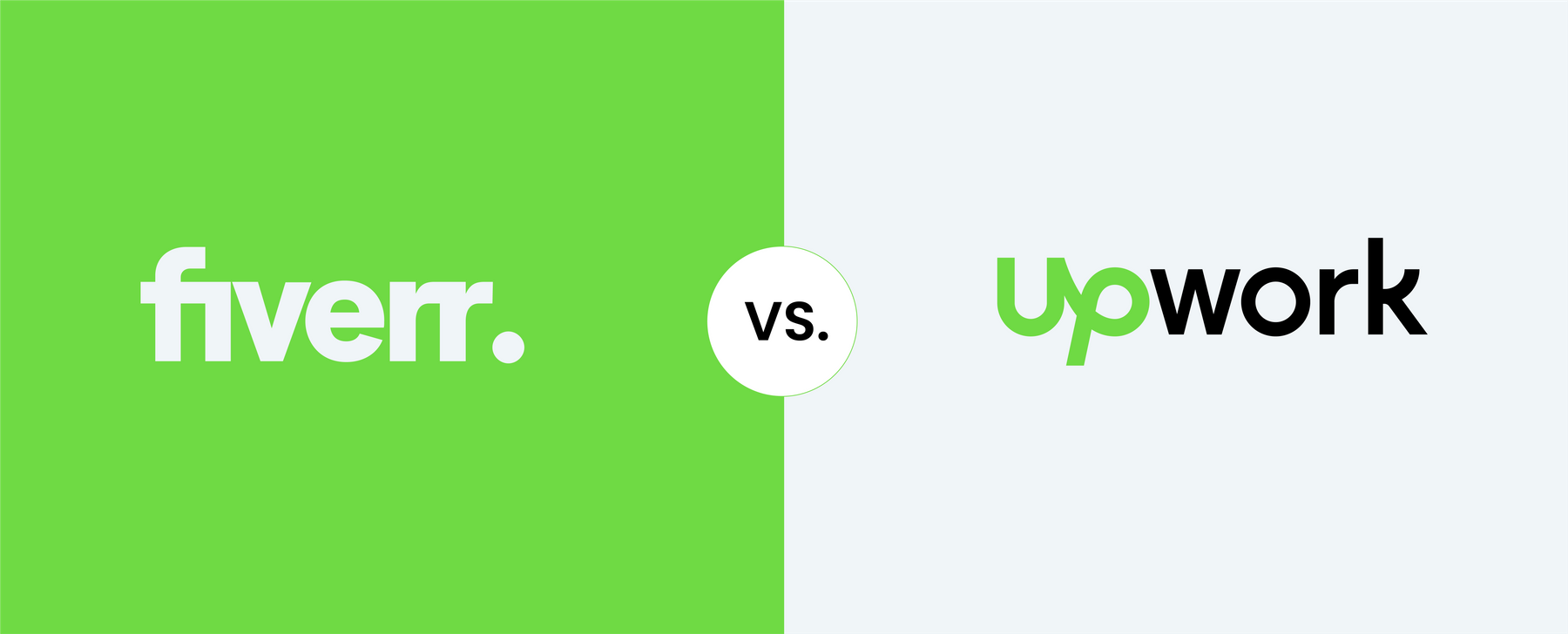 ? Upwork vs. Fiverr: Pros and Cons
? Upwork Pros & Cons
✅ Pros
Upwork provides freelancers with a variety of ways to interact with clients across the world.
Hourly rates are available for freelancers.
Upwork's payment system is safe and secure.
In comparison to other freelancer marketplaces, Upwork offers more profitable projects.
❌ Cons
Upwork charges a percentage of the total earnings of the freelancer.
Getting customers when you're first starting out can be difficult.
Only 3% of freelance profiles on Upwork get approved. Freelancers who don't have years of work experience or who don't specialize in a particular field may be rejected.
Strong competition. There are hundreds of freelancers for clients to choose from, which typically results in lower costs for the freelancers.
? Fiverr Pros & Cons
✅ Pros
It provides freelancers with the ability to construct their own services.
Certain specialties on Fiverr require a skills test to boost buyer confidence.
To transmit and receive money, Fiverr makes use of a secure payment platform.
Buyers from all across the world may see what freelancers have to offer.
There is no cost to join or to get started.
❌ Cons
Fiverr takes a 20 percent cut of each gig it lists on the site.
Fiverr's most popular gigs cost $5 or less.
Fiverr is the only channel via which freelancers can communicate with their clients. This could have an adverse effect on the marketing skills of independent contractors.
New freelancers may find it challenging to generate money on Fiverr.
? Upwork vs. Fiverr: 4 Key Differences You Need to Know
1. Billing
Fiverr: Sellers advertise gigs with a set price.
Upwork: The seller offers set or hourly rates for projects.
2. Seller/Buyer Relationship
Fiverr: Bids are sought by buyers from sellers.
Upwork: Sellers compete for the buyer's projects by bidding.
3. Fees
Fiverr: Fiverr charges a $1.00 processing fee for tasks up to $20.00. They impose a 5% fee on gigs over $20.
Upwork: Upwork charges 20% on the first $500 in customer billings and 10% on any subsequent billings between $500 and $10,000. Upwork imposes a flat 5% fee on total billings in excess of $10,000. Additionally, Upwork charges a 2.75 percent processing fee on each bid.
4. Collaboration
Fiverr: Freelancers work independently.
Upwork: By forming agencies, freelancers can collaborate. Upwork projects for agencies may demand a variety of skill sets from a variety of fields.
? Which Platform Is Best For You?
Fiverr's major competition is Upwork, and vice versa. Both are enormous platforms for freelancers, and they make it easy for them to work from anywhere in the world.
Using them will help you locate and complete online tasks, from connecting with others to talking with clients to submitting work and getting paid for your efforts.
There are distinct advantages and downsides to each, but various freelancers will benefit more from using one than the other.
In the end, the decision between Upwork and Fiverr comes down to your personal preferences and demands.
That being said, which freelancing platform is best for you?
? Choose Fiverr if…
You'd prefer to get started right away rather than waste time leaping through hoops.
You'd rather take on one-off jobs than commit to a long-term project.
Your goal is to have complete control over the scope of your job and be able to lay out your services.
? Choose Upwork if…
Instead than waiting for clients to find you, you prefer to take the initiative and actively seek out jobs.
You're looking to establish a steady flow of high-quality clients with whom you can do long-term business.
You place a high value on the quality of the work and the security of your compensation.
? Bottom Line
In order to find the top freelance websites, many people start by looking at Upwork and Fiverr, both of which are completely free of charge to use.
However, you should now have a good idea of how Upwork and Fiverr compare to one another. You can use this information to help you decide whether to try both or just one of them.
There is no guarantee of success on just about any freelancing platform, so learning how to market yourself effectively is critical. But don't worry; you can do this regardless of your previous knowledge or skill.
Creating your own customer relationships OUTSIDE of freelance platforms like Fiverr and Upwork is something I advocate doing in the long term. There are no transaction costs, so you'll be able to make more money!
❓You Might Ask
1. Is Fiverr good for beginners?
Fiverr is an excellent place to start if you're a new freelancer because you can sell anything digital for $5.
2. Is Fiverr cheaper than Upwork?
Both Fiverr and Upwork impose a fee on all payments sent to the freelancers they have hired. Fiverr, on the other hand, is more affordable than Upwork in terms of per hour rates. To get started, you must pay $1 for gigs up to $20 and a flat 5 percent on payments over that amount.
3. Is Fiverr free to use?
While signing up with Fiverr is free, only registered users have the ability to purchase and sell on the platform.
4. Does Upwork pay well?
Upwork is the result of the merger of oDesk and Elance. It boasts the highest-earning freelancer community of any of the other platforms, with a gross revenue of $920 million.
5. Is Upwork good for beginners?
With the ability to search through millions of jobs and select the ones that are ideal for you, Upwork might be a wonderful place to start your freelancing career from the ground up. Beginners with new profiles, on the other hand, must overcome a few roadblocks like their seeming lack of experience and fierce competition in order to succeed.